Fan Wu receives the Max Planck Society's Peter Hans Hofschneider Prize 2023
Special honour for the young scientist Fan Wu from the Max Planck Institute (MPI) for Heart and Lung Research in Bad Nauheim: At this year's annual meeting of the Max Planck Society, the researcher was awarded the Peter Hans Hofschneider Prize.
With the Peter Hans Hofschneider Prize, the Max Planck Society honours outstanding work in the field of molecular medicine every two years. The prize is endowed with 3.000 euros. It is particularly gratifying for the MPI that after Mohamed Ahmed El-Brolosy was awarded the prize in 2021, with Fan Wu once again a young scientist from the institute has been honoured. According to a representative of the institute, this is not only a personal achievement, but also a sign of the good work of young scientists at the institute.
Fan Wu is currently a postdoctoral researcher in Professor Thomas Braun's Department of "Development and Remodelling of the Heart". Born in China, she received her Master's degree from the medical faculty of the University of Hong Kong and then went to the MPI in Bad Nauheim for her dissertation.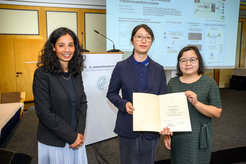 In the course of her research, Wu discovered a possible connection between the pathogenesis of bronchial asthma and so-called epigenetic changes. "Despite effective treatment methods, asthma continues to pose an enormous medical challenge. In addition, a significant percentage of asthma patients respond poorly to standard therapy," Braun said. In particular, it is not known what causes the
chronic inflammatory processes in asthma, even when the triggering allergens are no longer present. In her doctoral thesis, Wu discovered that asthma disease in humans is associated with a significant reduction in the presence of 5-hydroymethylcytosine (5-hmC) in airway smooth muscle cells.
The base 5-hmC is a component of DNA. In her study, Wu found with the help of various genetic engineering methods "that this insufficient modification of the DNA in the smooth muscle cells probably represents a kind of memory of the epigenetic memory", according to the award winner. This could lead to inflammatory processes, once they have occurred, being relived over and over again, she said.
"I was fascinated by this discovery and hope to have found an approach for the development of a new therapy to break the vicious circle of chronic inflammation in the lungs,"
Wu describes her motivation.
Wu has since been able to publish the results of her study in the journal Nature Genetics and is a co-author in other publications. As a postdoctoral researcher at the Max Planck Institute for Heart and Lung Research, Fan Wu is intensifying her studies on epigenetic influences on the innate immune defence. In the process, recent data show that she is getting closer to her goal of paving the way for therapeutic use.