Excellence Initiatives
Since 2005 the excellence initiatives of the federal government and the states of Germany have been sustainably strengthening higher education and the standing of the country as a science centre through the specific promotion of cutting-edge excellence. The initiative seeks to enhance Germany's international competitiveness and ensure effective networking of the top talent in the academic and scientific fields.
Excellence Cluster Cardio-Pulmonary System (ECCPS) - successor from January 2019 on: Cardiopulmonary Institute
The ECCPS excellence cluster sponsored by the German Research Foundation (DFG) is engaged in research focused on diseases of the heart and lungs and is a merger of the top talents of the Justus-Liebig University in Giessen, the Goethe University in Frankfurt and the Max-Planck-Institute in Bad Nauheim.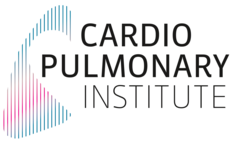 LOEWE Center for Cell and Gene Therapy
The centre is a collaborative undertaking between the Max-Planck-Institute for Heart and Lung Research with the Goethe University Frankfurt, the Georg-Speyer-Haus and the Paul Ehrlich Institute in Langen. By strengthening existing research fields and opening up new ones, an internationally competitive and powerful research network for the further development of cell and gene therapy is being created.
Previous Excellence initiatives
Lipid Signaling Research Center Frankfurt (LiFF)
The Lipid Signalling Research Centre Frankfurt (LiFF) sponsored by the "National Campaign to Develop Scientific and Economic Excellence" (LOEWE) brings together interdisciplinary expertise of the Goethe University Frankfurt and the Max-Planck-Institute for Heart and Lung Research in Bad Nauheim. It should expand lipid-signaling research in the Rhine-Main region into a lasting source of innovation for new medicines.
Universities of Giessen and Marburg Lung Center (UGMLC)
The LOEWE-funded merger of experimental and clinical lung research in Giessen, Marburg and Bad Nauheim is seeking to establish a leading international centre in the field of diseases of the lungs and respiratory tract.
http://www.uni-giessen.de/cms/forschung/einrichtungen/loewe/ugmlc