International Birnstiel Award for Mohamed El-Brolosy
Max Planck researcher is first awardee of Vienna-based Foundation
Mohamed El-Brolosy of the Max Planck Institute for Heart and Lung Research in Bad Nauheim received the Birnstiel Prize for his outstanding achievements in the dissertation. The research prize, which was awarded for the first time, is jointly granted by the Birnstiel Foundation and the Institute of Molecular Pathology at the Vienna BioCenter.
El-Brolosy, a biologist from Egypt, is doing research at the Bad Nauheim Institute in the department of Didier Stainier on so-called genetic compensations. This describes a phenomenon in which the failure of individual genes and consecutively of their function, unlike expected, does not lead to undesirable developments during embryonic development. In model organisms such as zebrafish and mouse, El-Brolosy found that related genes are more active when the one original gene is lost. As part of his doctoral thesis, the 27-year-old junior researcher was able to provide essential insights into the molecular processes responsible for the underlying regulation.
El-Brosoly studied at the German University in Cairo. He completed his master's degree at the "International Max Planck Research School" in Göttingen and then moved for his doctoral thesis to the Max Planck Institute in Bad Nauheim. He published the results of his research, among others, in the renowned journal Nature.
The Birnstiel Prize was awarded for the first time this year. Out of more than 100 nominations from all over the world, El-Brolosy was selected as one of three awardees. According to Meinrad Bussling of the BioCenter in Vienna, the prize is intended to highlight the outstanding achievements of junior researchers in their doctoral thesis. In addition, the winners have shown their great potential for an exceptional science career in the field of molecular life sciences.
MH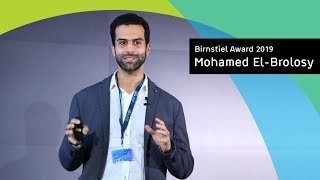 El-Brolosy's speech at the award ceremony.